Victor F Romero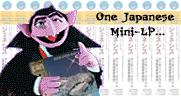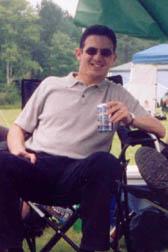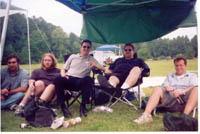 With some friends at Progday (l-r) Alex Siufy, Mike Prete, Victor, Dirk Evans, Greg Northrup
Email Victor
Homepages:
Geographical location: The great United States Of America
Other contact information:
DOB: 04/26/72
Enjoy these Styles and musical qualities: Canterbury, Difficult, Folk, Kosmiche or Kraut Rock, Improvisational, Modern Classical, RIO, Symphonic, Flamenco, Psychedelic, Zeuhl
Other styles/genres/qualities of music that I like not listed above: I guess it is pretty much covered. Actually, I like Mariachi music and boleros.
Favorite or well-respected bands/artists There are a lot of bands that I respect and admire, among them are: Magma, Eskaton, Genesis, Yes, BDMS, Il Balletto Di Bronzo, PFM, Happy The Man, Area, Deus Ex Machina, Faust, Grobschnitt, Embryo, Anglagard, Gong, Eider Stellaire, Weidorje, Virus, 2066 & Then, Confluence, Emergency Exit, Camel, Miridior, Harmonium, L' Engoulevent, Sloche, Conventum, Et Cetera, Bacamarte, Mia, Bubu, Fusioon, Iceberg, Gryphon, Haizea, Itoiz, King Crimson, Maneige, Sebastian Hardie, Nine days Wonder, Novalis, Ragnarok, Pollen, Le Orme, RDM, Supersister, Eloy, Malicorne, Chalibaude, Khan, Earth & Fire, Finnforest, Jean Paul Prat, Dun, Benoit Widemann, Third Ear Band, Henry Cow, Steve Hillage, Carpe Diem, Hoyry Kone, Forgas Band Phenomena, Zamla Mammaz Manna, Ensemble Nimbus, Museo Rosenbach, Picchio Dal Pozzo, Maxophone, Amon Duul II, Corte Dei Miracoli, Arachnoid, Kenso, Locanda Delle Fate, Soft Machine, Robert Wyatt, Wapassou, UFO, Michael Schenker, Ossana, Sensations Fix, Camel, Slapp Happy, Crucis, Sotos, Haikara, and many, many more.
Dislike these Styles and musical qualities: Ambient, Beat, Heavy Metal, Humor, Noise/Industrial/Urban, Mainstream/Accessible/Pop, Blues, New Age, Theatrical
Musical styles or qualities that I do not like: Hip-Pop, Country, Salsa, Rap, Neo-prog, Prog-Metal, etc.
Occupation(s): Consultant with The Infinity Group.
Other musical activities: Well I have reviewed a few albums on Prog-net, I participate in RMP also. I used to play Guitar, but I was never very good at it.
Hobbies / obsessions: My Obsession is music, I could spend all my money on it. I would like to have just about any piece of work that is out there; Of course that is impossible but I am still trying. I like politics quite a bit, and I am interested in finances and investments also. Learn from different cultures is also fascinating.
Other comments: That is pretty much all for today folks!