Spyros Papanastassatos
aka spacefreak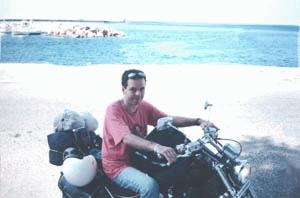 Email Spyros
Homepages: No homepage available!
Geographical location: Athens, Greece
Other contact information: ICQ #31415918
DOB: 1964
Enjoy these Styles and musical qualities: Ambient, Canterbury, Difficult, Electronic, Folk, Kosmiche or Kraut Rock, Improvisational, Noise/Industrial/Urban, RIO, Musique Concrète, Symphonic, Traditional, Blues, Space, Psychedelic, Zeuhl, Theatrical
Other styles/genres/qualities of music that I like not listed above: 80ies difficult new wave, "post" rock, 70ies hard rock and stoner metal, early 80ies punk/hardcore, classic rock, ethnic, psychedelic trance, electronica.
Favorite or well-respected bands/artists ROLLING STONES "Beggars banquet", JETHRO TULL "Thick as a brick", AMON DUUL 2 "Tanz der lemminge", PINK FLOYD "A saucerful of secrets", INCREDIBLE STRING BAND "The hangman's beautiful daughter". MOTORHEAD "Overkill", POPOL VUH "In den garten pharaos", HENRY COW "In praise of learning", GONG "Angel's egg", BLACK SABBATH "Volume 4", VELVET UNDERGROUND "Featuring Lou Reed & Nico", KING CRIMSON "In the court of the crimson king", ROY HARPER "Folkejokeopus", TANGERINE DREAM "Zeit", FAIRPORT CONVENTION "Liege and lief", ANGE "Au dela du delire", SEX PISTOLS "Never mind the bollocks...", KALEIDOSCOPE (UK) "Tangerine dream", CAN FUTURE days", VAN DER GRAAF GENERATOR "The least we can do is wave to each other"
are the only albums I would have kept if I ever abandoned music...
Dislike these Styles and musical qualities: Mainstream/Accessible/Pop, New Age
Musical styles or qualities that I do not like: Most post 80ies heavy metal, modern "alternative rock" crap, pop, disco, lounge...
Occupation(s): education
Other musical activities: Related with several local projects: CHAOS/RIOT, VOMIT, SOUND POLLUTION, VARATHRON, INDUSTRIAL RESISTANCE, OPTICAL MUSIC, FLOATING ASTRAL TRIBE. Some of them have albums out.

Co-editor of "Thrash Metal", "Meganecrosy", "Genital Grinder", "Noise Core", "Screaming for a Change", fanzines during the 80ies.

Article contributor on "Slayer"-Norway (INCREDIBLE STRING BAND ), "Shadows of B23"-Greece (GONG, KALEIDOSCOPE (US) articles, STEPPES interview), "Crohinga Well" Belgium (Greek progressive & psychedelic scene presentation), "Zoo"-Greece (MANDRAGORA interview, TANGLE EDGE article).

DJ at several rock bars during the early - mid 80ies.
Hobbies / obsessions: Music, music, music!!! Seriously, apart from it, motorbiking, book reading, clubbing, yoga, computers/internet, politics, women, travelling around the world...
Other comments: My aim is wakefulness,
my enemy is dreamless sleep.