Peter Thelen
aka The Lighthouse Keeper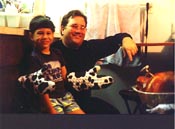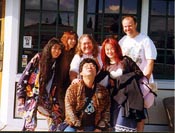 1. With my son Thomas, Nov.1996
2. W/Arsnova 11/98. L-R: Keiko, Naomi, me, Akiko, Jeff Melton. Front: Numero Ueno
Email Peter
Homepages:
Peter the Lighthouse Keeper (Personal Home Page)
Home page of Exposé: "Exploring The Boundaries of Rock"
Exposé is America's premier quarterly publication specializing in the music the record and radio industries stubbornly choose to ignore. The focus is outside the mainstream, in the progressive and experimental hinterlands... Its philosophical approach to music is critical....Exposé is not a fanzine; both the readers and the artists covered are better served by an honest assessment of the progressive underground. With over a thousand releases coming out of this scene each year, it's important to have a tool to help sort out the good from the great, and the mediocre from the poor, and Exposé strives to be that tool.
Geographical location:
6167 Jarvis Ave. #150
Newark, CA 94560
USA
Other contact information:
DOB: Not Available
Enjoy these Styles and musical qualities:
Ambient, Canterbury, Difficult, Electronic, Folk, Kosmiche or Kraut Rock, Improvisational, Keltia, Modern Classical, Noise/Industrial/Urban, RIO, Musique Concrète, Symphonic, Space, Psychedelic, Zeuhl
Other styles/genres/qualities of music that I like not listed above:
Fusion, World-Fusion, Indonesian Gamelan, 60's soul & rock, some 70's punk
Favorite or well-respected bands/artists
Magma, Frank Zappa, Soft Machine, Carl Weingarten, Jade Warrior, Jimi Hendrix, Genesis, Steve Tibbetts, Arti e Mestieri, Dave Stewart, Happy The Man, Zamla Mammas Manna, PFM, Spirit, VDGG, Kraan, Henry Cow, Area, The Residents, Captain Beefheart, Univers Zero, Pink Floyd, Art Zoyd, Sleepytime Gorilla Museum, The Grateful Dead, Kenso, Forrest Fang, and hundreds more, but that's all I can think of right now.
Dislike these Styles and musical qualities:
Heavy Metal, New Age
Musical styles or qualities that I do not like:
Rap, hip-hop, trip-hop, shit-hop, or any of that related modern urban bullshit. Any overtly commercial rock/pop. Disco, most Techno, or any music with a steady triggered beat for dancing. Posers (includes most Metal-related/Goth-related Genres). Wannabes (includes most Neo-Progressive). Most Alternative Rock (especially the stuff with whiny loser vocals). Generally (with rare exceptions) don't like any music that uses drum machines or programs where real drums and percussion would be more appropriate. Also don't like synth tones that attempt to cheezily emulate real instruments. Fluffy New Age crap. Country music with twangy heartbreak singing (instrumental country is OK, though).
Occupation(s):
Technical support engineer for high-end storage server company in San Jose, CA.
Other musical activities:
Editor and Publisher of Exposé
Former musician (Mandolin, Bass, Guitar, Banjo) in a Dan Hicks / Commander Cody / Grateful Dead style 6 piece band called "Happy Daze" (circa 1972-73, San Bernardino CA). No recordings (thank god!)
Hobbies / obsessions:
Inner peace, relevance, logic, kindness, beauty, complexity, challenge, wisdom
Other comments:
I Am, Therefore I Think