Alex Pennanen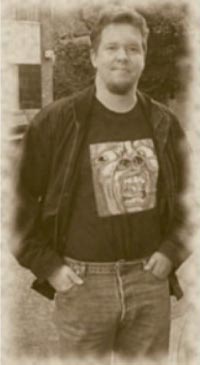 Email Alex
Homepages:

Geographical location:
Turku, Finland
Other contact information:

DOB:
July 13th, 1974
Enjoy these Styles and musical qualities:
Canterbury, Kosmiche or Kraut Rock, Jazz, Symphonic, Psychedelic, Zeuhl
Other styles/genres/qualities of music that I like not listed above:
The miriades of progressive and brilliantly innovative obscurities, so called "lost gems of the 60's - 00's"
Favorite or well-respected bands/artists
In alphabetical order: Arco Iris, Ave Rock, Bambibanda E Melodie, Banco del Mutio Soccorso (Darwin!), The Beatles, Berits Halsband, Bondage Fruit, Tim Buckley (Starsailor), Miguel Cantilo Y Grupo Sur, Caravan ('70-'74), Circus (Mel Collins' band), Comus, Connivence, Cos, Dr. Dopo Jam, East of Eden, Eiliff, Embryo, Ethos, Fifty Foot Hose, Fläsket Brinner, From (Power On!), Fusion Orchestra, Galliard (New Dawn), Green Milk From The Planet Orange, Guns & Butter, Harmonium, Hatfield & The North, Het Pandorra Ensemble, High Fidelity Orchestra, High Tide, Jade Warrior, Kaarst, Kestrel, King Crimson, Kingdom Come (A. Brown), Kollektiv, Kräldjursanstalten, Sergey Kuryokhin, Lard Free, Led Zeppelin, Ma Banlieue Flasque, Mackenzie Theory, Masters of Deceit, Maxophone, MIA, Musica Urbana, Mutantes, Nine Days Wonder, Nova (both: Italian and Finnish), Osanna, Out of Focus, Passport, Peggy's Leg, Piirpauke, Pink Floyd (only some of them), Plat Du Jour, Procession, Pseudo Buddha, Quella Vecchia Locanda, Quiet Sun, Redd, Shibusashirazu, Shiver, Shuttah, Soh Band, Som Nosso De Cada Dia, Species Being, Tetragon, Jukka Tolonen (early works), Tortilla Flat, Triode, Twenty Sixty Six And Then, J.-C.Vannier, Frank Zappa, Änglagård (Hybris) and many others.
Dislike these Styles and musical qualities:
Ambient, Electronic, Heavy Metal, Noise/Industrial/Urban, Mainstream/Accessible/Pop, Traditional, New Age
Musical styles or qualities that I do not like:
Countless clones of Genesis, Yes, Rush and Marillion and countless clones of those clones etc., neo-prog, pomp rock, cold electronics, dark ambient, gotic, death metal, hardcore, too radical minimalistic avant, industrial, urban, nu-jazz, mainstream fusion and rock, some kind of punk or garage rock full of yells, screams, bad vocals and primitive guitar works, beat, west-coast, polit-rock, fantasy music (warriors, elfs, unicorns and goblins don't appeal to me for sure!), too meditative albums, too prolongated albums, traditionals, sugary pop music (of course!) Too simple or too complicated - both are not good to me!
Occupation(s):
Manager
Other musical activities:
Used to participate in some local obscure projects (DOM, Mr. Twister of the 60-s, Ed & Krutan).
A music collector.
Hobbies / obsessions:
Music (listening/composing), reading, travelling, finnish sauna, ice-hole swimming (taken after the sauna, of course), soccer, chess, girlrls...
Other comments:
Yes – No + Yes + No = 2 Yes!