Ken Klapper
aka vinyldisciple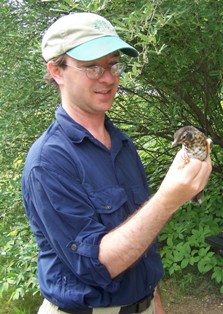 Email Ken
Homepages:
Ken Klapper's OTHERONE
An old page that will pass at some point. When I have time I will put up a new page with more prog-related stuff, vinyl-collecting resources and more about my other interests (see below).
Geographical location:
Peterborough, New Jersey, USA
Other contact information:

DOB:
1/16/73
Enjoy these Styles and musical qualities:
Canterbury, Kosmiche or Kraut Rock, Jazz, RIO, Symphonic, Psychedelic, Zeuhl
Other styles/genres/qualities of music that I like not listed above:
Some of the more creative bands under the "indie" or "post" rock umbrellas (Pavement, Polvo, Tortoise). Various international music (Balinese & Javanese Gamelans, Balkan music). Classic country (Hank Williams, Johnny Cash). Funk (Parliament, early Kool & The Gang), and various 70's soul/R&B (James Brown, Stevie Wonder, Marvin Gaye). Classic 70's rock (Steely Dan, Santana, Allman Brothers) and "jam bands" (Grateful Dead, Phish, Aquarium Rescue Unit). Intelligently crafted pop music (XTC, Crowded House). "Intelligent Dance Music" and other electronica (Aphex Twin, the Orb). Trip-Hop (Portishead, Tricky). Progressive Hip-Hop (A Tribe Called Quest, Jurassic Five). . I do like good blues (B.B. King, James Cotton), but no "new age" as that genre seems to be merely a watered down version of well done electronic/ambient music.
Favorite or well-respected bands/artists
In addition to the above: John Coltrane, Miles Davis, Charles Mingus, Pharoah Sanders, Sun Ra, The Beatles, Amon Duul II, Can, Faust, Magma, Nyl, Yes, Genesis, Frank Zappa (& the Mothers), Tim Buckley, Samla Mammas Manna, Kultivator, Aksak Maboul, Cos, Supersister, PFM, Maxophone, Stormy Six, Begnagrad, Plastic People of the Universe, Fusioon, Robert Wyatt, Soft Machine, aravan, Hatfield & the North, National Health, Gong, Henry Cow, King Crimson, Gentle Giant, Los Jaivas, Magical Power Mako, Bruce Cockburn, Mahavishnu Orchestra, Los Lobos, Bjork, Beck, Radiohead, Split Enz, Bob Marley, Jimi Hendrix, Cream, Traffic, Mandrake Memorial, Love, Jefferson Airplane, Bob Dylan.
Dislike these Styles and musical qualities:
Blues, New Age
Musical styles or qualities that I do not like:
Bad vocals - how many otherwise great albums are dragged down by this??!? Bad drumming. Soul-less technical guitar or keyboard runs that seem to exceed an intuitively acceptable length. Most modern country. Modern R&B/Soul with the show-offy vocals. 3-hour improv sessions by those who don't have "it". Most heavy metal & rap wears thin with me before too long. Jazz-cheese like Kenny G.
Occupation(s):
Graduate Student in Conservation Biology / Consultant in Wildlife Biology & Ornithology.
Other musical activities:
I play guitar and keyboards for my personal amusement, sometimes for friends and at a few coffeehouses. I collect vinyl LP's, especially prog, and enjoy attending record shows and visiting record shops when I travel. I like to make it to festivals like ProgDay and NEARfest when I can - see you there!!
Hobbies / obsessions:
Bird and wildlife watching, hiking & camping, cooking, reading (various topics), progressive politics, hot peppers, and Linux.
Other comments:
If you're a band whose style is in line with my musical tastes, I'd be happy to review your album for Gnosis. Please contact me at the above address.