Jon Davis
Click picture for Forbidden City background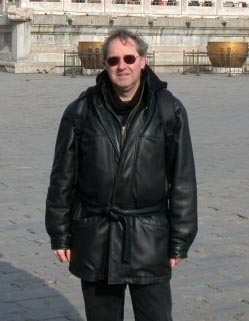 Email Jon
Homepages: Quasi-Official Robert Silverberg Web Site
A giant web site for science fiction writer Robert Silverberg.
Geographical location: Beijing, China
Other contact information: AIM: RocketShipX41
DOB: 5 Sept 1958
Enjoy these Styles and musical qualities: Canterbury, Difficult, Electronic, Folk, Jazz, Keltia, RIO, Mainstream/Accessible/Pop, Psychedelic
Other styles/genres/qualities of music that I like not listed above: African and Asian music, both traditional and crossed with other genres. Cleverly written pop (XTC, REM, etc). Nordic folk-based fusions.
Favorite or well-respected bands/artists Peter Gabriel, XTC, Gentle Giant, Richard Thompson, Garmarna, Bj÷rk
Dislike these Styles and musical qualities: Blues
Musical styles or qualities that I do not like: Overly predictable music, regardless of genre.
Occupation(s): Computer programming
Other musical activities: Dabbler in many instruments, composing and home recording. Writing for ExposÚ.
Hobbies / obsessions: Robert Silverberg (see web site above). Playing soccer (when I'm in the US). Cats. Learning Chinese. Exploring Chinese music. Taking pictures of unexpected things.
Other comments: