Beth Varden
aka Critter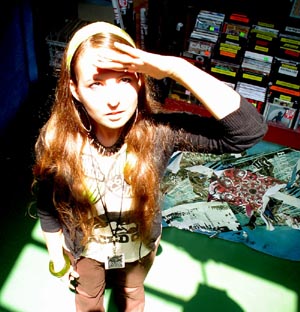 click for larger view
Email Beth
Homepages:
The Band:
The Violet Hour (Myspace)
The Person:
thee aesthete (Myspace)
Geographical location:
Baltimore, Maryland, USA
Other contact information:

DOB:
April 26, 1977
Enjoy these Styles and musical qualities:
Beat, Canterbury, Difficult, Electronic, Folk, Kosmiche or Kraut Rock, Heavy Metal, Jazz, Traditional, Blues, Space, Psychedelic
Other styles/genres/qualities of music that I like not listed above:
Afrobeat/West-African Funk, 1970s Country Rock, Dub/Roots Reggae, Gamelan, Hip-Hop, Library, Japrock (J. Cope's term), Out/Free Jazz, Stoner Doom, Tropicalia, Wyrd and/or Psychedelic Folk, and pretty much any Non-Western Folkloric Music.
Favorite or well-respected bands/artists
13th Floor Elevators, Acid King, Acid Mothers Temple, Älgarnas Trädgård, Amon Düül (original and II), Horace Andy, Aphex Twin, Arbete Och Fritid, Dorothy Ashby, Avarus, David Axelrod, Sibylle Baier, Bardo Pond, Syd Barrett, Beach House, Big Business, Black Moth Super Rainbow, Black Sabbath, Boredoms, Boris, Sandy Bull, Susan Cadogan, John Cale, Can, Captain Beefheart, Shinki Chen, Cluster, Philip Cohran, Alice Coltrane, Gal Costa, Danger Mouse, Miles Davis, The Dead C, Dungen, Earth, Electric Prunes, Electric Wizard, John Fahey, Faust, Flying Saucer Attack, Brigitte Fontaine, Funkadelic, Fursaxa, Serge Gainsbourg, Eddie Gale, Ghost, Gong, Bo Hansson, Harmonia, Hawkwind, Daniel Higgs, His Name is Alive, The Incredible String Band, J Dilla, Jeweled Antler Collective, Robert Johnson, King Tubby, Konono No. 1, Erkin Koray, Fela Ransome Kuti, Lau Nau, Les Rallizes Denudes, Liars, Lungfish, Madlib, Mainliner, Joe Meek, Melvins, Mogollar, The Monks, Moondog, MV & EE, My Bloody Valentine, Milton Nascimento, Om, Panda Bear, Pärson Sound, Gram Parsons, Lee "Scratch" Perry, Polvo, Popol Vuh, The Pretty Things, Public Image Ltd., Quasimoto, Raekwon, Relatively Clean Rivers, Reverend Gary Davis, Rhythm & Sound, Ride, RZA, The Seeds, Selda, Ravi Shankar, Sigur Ros, Silver Apples, Sleep, The Slits, Slowdive, The Soft Machine, Spacemen 3, Spires That In The Sunset Rise, Stark Reality, Stereolab, The Stooges, Sun City Girls, Sun Dial, Sun Ra, Sunn O))), T. Rex/Tyrannosaurus Rex, This Heat, Throbbing Gristle, Träd, Gräs och Stenar, Traffic Sound, The Velvet Underground, West Coast Pop Art Experimental Band, The Who, Wilderness, Tony Williams, Wire, Link Wray, Wu-Tang Clan, The Yardbirds, Yes, Yo La Tengo, Larry Young, Neil Young, Frank Zappa & The Mothers of Invention, The Zombies
Dislike these Styles and musical qualities:
Don't like music that sounds bad . . . you didn't need me to be more specific, did you?
Musical styles or qualities that I do not like:

Occupation(s):
Student, Musician, Visual Artist, Record Store Slave
Other musical activities:
Been playing in and recording with bands in the Baltimore area for more than ten years (including Arbouretum and Jackie O Motherfucker). Current project is a kind of ambient-psych duo thing: The Violet Hour . . . coming at you with an official release soon! Also spent a long tenure with the D.C. based Gong Kebyar Gamelan, Mitra Kusuma.
Hobbies / obsessions:
Polaroid photography, Literary Theory and Continental Philosophy, Sun Worship, Fine Arts, Graphic Arts, Cat Hair Removal, LP Acquisition, Travel Travel Travel
Other comments:
Um. . . .