It's almost a given: every Romanian band that puts out a decent progressive rock album must tap into the rich folklore of that faraway corner of the world. Just like their predecessors, Sfinx and Phoenix, have done decades ago, getting inspired by the timeless legends of the land, Talitha Qumi has released a debut album deeply rooted into the ancient folk culture and the mythology of the local people. Assembled by Eugen Nutescu (guitar and vocals) in Cluj, a city that has become over the years the main cultural hub in Transylvania, the band was born in 1990, the year after the brutal communist regime was toppled. With the overwhelming danger of censorship removed, the early 90s were a fertile period for Romanian bands of all kinds and Talitha Qumi was one of them. Nutescu came up with the name, after watching Franco Zeffirelli's "Jesus of Nazareth". According to him, there is no religious motivation in adopting that name (in Aramaic, "Talitha Qumi" means "Maiden, arise" and was the line Jesus used when He raised Jairus' daughter from the death). Upon seeing the movie, he thought that could be a good name for a band. Two months after, for their first concert ever, he remembered the line from the movie and had it used on the event's poster. The name stuck. The first recruited member was Dragos Andriana (drums, percussion and vocals) followed by Stefan Paskucz (bass and vocals). For a while, the band was active as a trio (though they used Dana Sârbu, vocals at times, he was more of a collaborator and the band's official photographer). The line-up was crystallised in 1995 when Serban Ian Ursachi (piano, recorder and vocal) was added to the band as the fourth member and that's how "Despre Cuvinte" (About Words) was recorded in 1996.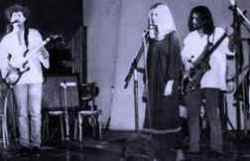 Talitha Qumi, Cluj Conservatory Music Hall (1993)
The music is a very esoteric blend of local folklore spiced up with pagan chants and medieval-inspired themes, mixed with psychedelic twirls and cross-pollinated with complex rock and jazzy structures. The lyrics are in Romanian except of one song that is sung in Latin. The last time I heard Latin on a progressive-rock album, I was listening to Deus Ex Machina. How cool is that? In addition to the main instruments, acoustic and electric guitars, bass, drums and piano, there are a lot of guest instruments, such as violins, flutes and recorder. Eugen Nutescu, owner of a mature voice that compliments so well the music, has a few very impressive solos throughout the album, like the one on the 4th track called "Despre himere, naluciri si alte parelnice figuri" (in an approximate translation this would be "About Chimeras, Hallucinations and other Shadowy Apparitions" – it's all about mysticism, you see). The calm, subdued folk passages are intertwined with fierce and fast flowing segments where the musicians prove that they were not only inspired but also gifted. For authenticity, there are several inclusions of overlapping voices, as if recorded in a crowded market, the suave sound of playing children, recited poetry and even a vocal solo of a girl (most likely Dana Sârbu, the original member of the band) singing a wordless lullaby. This collage does not render the album less homogenous. Quite the opposite, the result is extremely original and unique.
Initially released by the band as an independent record in 1996, the album finally saw a proper CD release by the Romanian label Soft Records in 2005. Unfortunately, Talitha Qumi disbanded in 1997 when some of the members finished their university studies and had to enrol in what was at the time a mandatory army service. Those were harsh economical times for a country that has been ravished by 50 years of communism. There was no way a young band playing progressive rock could make it in such a weak financial climate. Eugen Nutescu is the only member that continued playing music in a newly formed band called KUMM. They have released a bunch of records for the same label (Soft Records). After an initial progressive rock album ("Moonsweat March" – 2000), KUMM ventured gradually with their following albums into alternative rock territory, but that is a story for another day.
Talitha Qumi's first and final effort is a lost gem, coming from a dark and unusual place that, over time, was rather tight-fisted with music that defied the norms. Highly recommended, if you can find a copy.
Eddie Lascu
March 8, 2013

---