Echolyn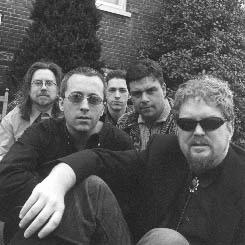 Raymond Weston - bass, lead and backing vocals
Christopher Buzby - keyboards, backing vocals
Jordan Perlson - drums, percussion
Paul Ramsey - drums, percussion
Brett Kull - guitars, lead and backing vocals
The seeds of Echolyn were sown in the late 1980s with Brett Kull, Raymond Weston, and Paul Ramsey playing in a cover band called Narcissus. In 1988 Narcissus disbanded, its members tired of playing cover tunes. A year later Christopher Buzby joined Kull and Ramsey to form Echolyn, which would focus entirely on original progressive music. Weston soon returned to the fold, and they began recording their eponymous CD Echolyn in 1990. Kull, Weston, and Jesse Reyes shared the bass post until Thomas Hyatt joined permanently during the recording. The first album was released independently on Bridge Records, and quickly sold out. The CD is now one of the most sought-after collector's items in progressive rock, fetching over $100 at the Ebay internet auction site. Echolyn was a welcome breath of fresh air in that generally lean time for progressive music.
In 1992, the band released Suffocating the Bloom, now generally regarded as an early 90s prog classic. The album honed Echolyn's trademark two- and three-part harmonies with tight, often-contrapuntal instrumental playing, and featured the over-25-minute "A Suite for the Everyman". Lyrically it deals with the loss of childhood innocence and idealism. In the spring of 1993 the band privately released the four-song acoustic mini-CD And Every Blossom. But it was Suffocating the Bloom that attracted the attention of executives at Sony/Epic Records, and the band contracted in the summer of 1993 to release their next full-length album on Sony/550 Music. All throughout this period, Echolyn gigged extensively, playing sold out shows in the Philadelphia area, most notably at the Theater for the Living Arts. They opened some shows for progressive metal luminaries Dream Theater. The band also performed a feature set at Progfest 94 in Los Angeles.
In the spring of 1994, the band recorded their first CD for Sony in Nashville, TN. Being on a major label would not corrupt Echolyn's musical ambitions. As the World is an uncompromising piece of progressive rock. The album was released in May 1995 to tremendous acclaim in progressive rock circles. People spoke of Echolyn as the best chance at the time for wider mainstream acceptance of prog; Sony, however, refused to support touring, which was Echolyn's musical lifeblood and the best way to reach new ears. The band headlined the inaugural ProgDay in North Carolina in September 1995 without label support. Shortly thereafter they were dropped by Sony. Hyatt and Buzby left the band, and after over 250 live shows and four releases, Echolyn had seemingly met its end. A "posthumous" recording entitled When the Sweet Turns Sour was released on SynPhonic and Cyclops, GFT in 1996. This CD consists of finished songs for a fourth full CD, demos in various stages of completion, a cover of "Where the Sour Turns to Sweet" recorded for a Genesis tribute album, and live tracks from the ProgDay 95 show.
The members of Echolyn remained very active in music. Kull, Ramsey, and Weston formed Still, which released Always Almost in 1996, focusing on songwriting in a hard-rock format. Renamed Always Almost, this trio released God Pounds His Nails in 1997, featuring a superb Gentle Giant cover among other well-written progressive-influenced hard rock songs. Both of these recordings were on Georgia-based Pleasant Green Records. Kull and Ramsey have also recorded and toured with the major-label folk-rock group Grey Eye Glances. Buzby formed Finneus Gauge with his drummer brother Jonn, vocalist Laura Martin, guitarist Scott McGill, and bassist Chris Eike. Finneus Gauge released two albums of intricate jazz-fusion influenced progressive rock, More Once More (1997) and One Inch of the Fall (1999), to worldwide critical acclaim. Keyboard magazine picked More Once More as "One of the Top 5 Records of 1997" in an editor's poll, while Guitar World recognized Finneus Gauge as "One of the 10 Best in the Current Progressive Rock Underground" in 1998.
In the spring of 2000 the members of Echolyn returned with Cowboy Poems Free, a brand new collection of ten songs that serves as their first studio album in over four years. The lineup features original members Buzby, Kull, Ramsey, and Weston, along with new drummer/percussionist Jordan Perlson. The members of Echolyn have had the necessary musical experiences and opportunities to confidently make this the perfect time for their re-entry into the musical arena. With a history that dates back eleven years, Echolyn continues to redefine original music with their unique style of avant-rock. Defying categorization, while consistently receiving and achieving critical acclaim and success in the progressive rock, alternative, and jazz/fusion genres, Echolyn is poised to once again bend the ears of the world's listeners.
Discography:
Echolyn (1991)
Suffocating the Bloom (1992)
And Every Blossom (EP, 1993)
As the World (1995)
When the Sweet Turns Sour (1996)
Cowboy Poems Free (2000)
Website: www.echolyn2000.com
email: echolyn2000@aol.com
Rob La Duca
(originally published in the NEARFest 2000 Program Guide, edited for Gnosis 11/3/01)
---